DO YOU SUFFER FROM SPLAD Smart Phone Loss Anxiety Disorder
Well do you?, don't laugh, do you? I pretty much suffer from every disorder that is out there but when I saw this I figured, Aha one I don't have, I was wrong, read this article http://goo.gl/hlY639 . Well guess what I have this disorder also.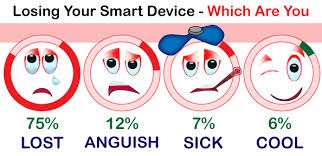 Think about it; losing your smartphone it is like the modern day version of losing your address book, wallet, (especially your license and credit cards) and forgetting your telephone number, home address and your social security number. I can go on and on of old school items that we dreaded losing... but think about losing your smartphone OMG your whole life is in there.

Well there seems to be two great fixes for this disorder, the first one is to grab a hold of your self and be cool as the pic above shows but since that is only 6% of us and the rest of the 94% is devastated, we need to turn to the 2nd answer... Back it up ... The question is how, please contact me and let me know how you do it.


Author:
Robert Schmalz
Phone:
310-505-5571
Dated:
August 29th 2014
Views:
593
About Robert: ...